AUTOMATIC FILLING STATIONS / PORTABLE FILLING STATIONS / LIQUID DISPENSIONS AUTOMAT / A.V.K.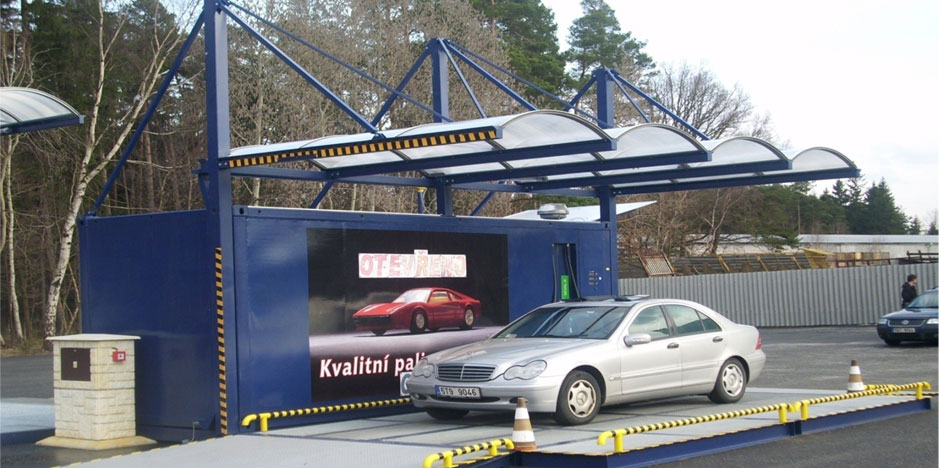 These Filling stations are manufactured by an Czech Republic, based company and are marketed by their Distributors In India by ALINZ BUYING HOUSE
These filling station are dislocated filling station, which enables a self – service dispensation of : petrol, diesel, aviation gasoline, kerosene, LPG, water, oil. with remote surveillance and control.

VK consists of four basic parts: tank, module of hydraulics, module of filling a module of electronics. These parts are placed in a special shipping container with dimensions according to ISO 668 series 1CC as well as the other ones, e.g. 1BB, 1AA etc.

The container is the base carrier – transport case. It creates along with it a catching tank for potential untightness of the technology, caused by unpredictable influences and it creates a closed space protected by a stabile automatic fire extinguishing device.
Areas with less developed infrastructure of filling stations
Premises of companies (carriers)
Big construction sites
Agriculture
Chains of shopping centers
Railway depots
Small airports (aero club)
Police, army
Utilization during floods and natural disasters
Small municipalities and villages
Hospitals (rescue service)
Harbors
Rescue brigades
Car or motorbike championships
THIS is manufactured in three basic types Container with working volume of 9.975 Thousand liters
Container with working volume of 13.740 Thousand liters
Container with working volume of 21.830 Thousand liters
Container with working volume of 35.000 Thousand liters
Liquid dispensation automat is placed in a specially transported container. It is a classical shipping transport container with dimension 6.0 x 2.5 x 2.5 meters
AVK consists of four basic parts
Tank
Module of hydraulics
Module of filling
Module of electronics

AVK is self-serviced device with cash-less payment of purchased volume of fuel. Its construction and safety is technically solved above standards with using of materials and technical parts of the highest quality.

AVK requires for its operation supply of 220 V/50 Hz. In the case of no supply mains there is a possibility of using of an additional power generator.

Safety of the product itself is above standardly secured with fire extinguishing device "FIRE JACK" working in automatic mode. Product is assessed from the point of view of safety with the lowest grade of danger "negligible, small" /other grades: moderate, middle, serious and critical/ according to the world wide recognized method "Dow's Fire and Explosion .
Chip card (internal dispensation of fuel)
Electronic wallet (to other companies)
Bank or payment card (Master or Visa card)

PC connection is possible through WiFi, GPRS or directly through cable. Software for processing is on the basis of Windows with the possibility of export to file formats CSV, XLS, and TXT according to the wish of customer. Failure report or any changes in the operation of product (in the case of error automatic turn off) On-line communication of technician with the device itself (possible remote repair
This is world's best technology and is very famous in Europe and other developed countries.
This is patent product of manufacturing company and will be first introduced in Asia by their exclusive distributor.
In India, there are many locations, where there are very few filling stations; it can be very useful for those areas.
This equipment can be installed anywhere or can be used on a tractor trolley or by a container carrier, so no special or big space is required.
There are many filling stations, which have very less sales volume because of locations, not suitable for fillings, they can use and shift these equipment where they can find best sales.
It can be very useful for the villages, where they have no filling stations within many miles.
This is equipped with all modern use facilities, so no problems of theft or miss use of quality.
Fusce placerat sem a magna adipiscing in vehicula leo adipiscing. Fusce volutpat ligula ut purus vestibulum vitae vehicula ipsum fringilla. Cum sociis natoque penatibus et magnis dis parturient montes, nascetur ridiculus mus. Nam ut hendrerit augue. Morbi quis dolor nunc. Quisque tincidunt pulvinar lobortis.